Type your tag names separated by a space and hit enter
Thrombolysis/Anticoagulation Recommendations for MI/PE/Stroke
Thrombolysis/Anticoagulation Recommendations for MI/PE/Stroke
is a topic covered in the
Pocket ICU Management
.
To view the entire topic, please sign in or purchase a subscription.
Anesthesia Central is an all-in-one web and mobile solution for treating patients before, during, and after surgery. This collection of drug, procedures and test information is derived from Davis's Drug, MGH Clinical Anesthesia Procedures, Pocket Guide to Diagnostic Tests, and MEDLINE Journals. Explore these free sample topics: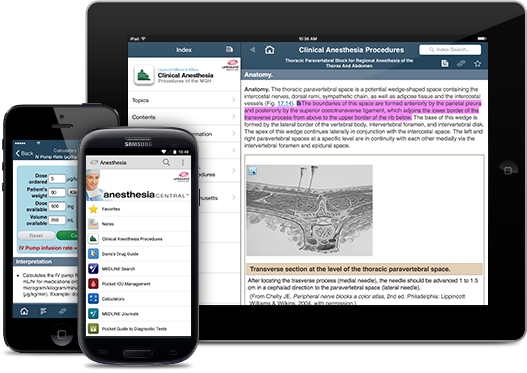 -- The first section of this topic is shown below --
First Things First (assess for & treat the following):
Myocardial infarction (MI)
Appropriately used thrombolytics will:

Limit infarct size
Improve left ventricular function
Reduce mortality
Once MI confirmed, other medical diagnostics and treatment should not delay implementation of reperfusion strategy

Most benefit (ST-elevation MI, if percutaneous coronary intervention [PCI] not available within 90 minutes of first medical contact) if < 3 hrs from symptom onset

Shorter time to reperfusion leads to better outcome
Proven value up to 12 hrs from symptom onset
12-24 hrs from symptom, fibrinlysis may be indicated if signs of continuing ischemia are present

Primary PCI

Most rapid & reliable for restoring coronary flow
Use instead of thrombolytics if available within 90 minutes of symptom debut
Pulmonary embolism (PE)
Thrombolytics appropriate for confirmed massive PE only (PE with systolic blood pressure < 90 mmHg)
Hemodynamic instability: hypotension with right ventricular strain

Modest, careful volume resuscitation: ~1 L, cautious vasoactive/inotropic support if progressive deterioration

Respiratory insufficiency: hypoxemia or respiratory distress

Oxygen therapy
Intubate for refractory hypoxemia or frank respiratory distress.

Diagnostic testing in unstable patients

CT angiogram to confirm massive PE
Consider supporting tests available in ICU/ER for decision to anticoagulate if CT not available.

Echocardiography
Lower extremity duplex ultrasound
CXR
EKG
D-dimer; PaO2
Stroke (acute ischemic stroke)
Time is critical (for patients eligible for tPA)

< 3 hrs from clearly defined symptom onset to IV thrombolytic administration

Decreased risk of death
Improved neuro outcome

3-4.5 hrs from symptom onset, no indication for IV thrombolytics
>4.5 hours, strong recommendation against use of thrombolytics for ischemic stroke
No thrombolytics for patients with extensive stroke (>1/3 MCA territory) or clear hypodensity on CT

Streptokinase associated with bleeding complications in ischemic stroke, contraindicated

Intra-arterial thrombolytics suggested if available for middle cerebral artery occlusion, (within 6 hrs from symptom onset)
For confirmed acute basilar artery occlusion, IV or intra-arterial thrombolysis may be useful if available

Consideration for thrombolytics must begin in ER.

Critical pathways streamline process.
-- To view the remaining sections of this topic, please sign in or purchase a subscription --
Last updated: May 5, 2010
Citation
* When formatting your citation, note that all book, journal, and database titles should be italicized* Article titles in AMA citation format should be in sentence-case
TY - ELEC T1 - Thrombolysis/Anticoagulation Recommendations for MI/PE/Stroke ID - 534210 Y1 - 2010/05/05/ BT - Pocket ICU Management UR - https://anesth.unboundmedicine.com/anesthesia/view/Pocket-ICU-Management/534210/all/Thrombolysis_Anticoagulation_Recommendations_for_MI_PE_Stroke PB - PocketMedicine.com, Inc DB - Anesthesia Central DP - Unbound Medicine ER -