Type your tag names separated by a space and hit enter
Severe Pneumonia in the ICU
Severe Pneumonia in the ICU
is a topic covered in the
Pocket ICU Management
.
To view the entire topic, please sign in or purchase a subscription.
Anesthesia Central is an all-in-one web and mobile solution for treating patients before, during, and after surgery. This collection of drug, procedures and test information is derived from Davis's Drug, MGH Clinical Anesthesia Procedures, Pocket Guide to Diagnostic Tests, and MEDLINE Journals. Explore these free sample topics: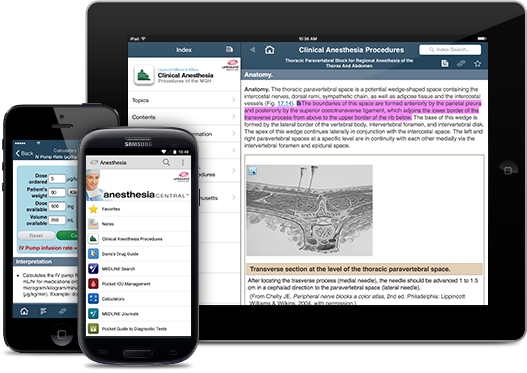 -- The first section of this topic is shown below --
First Things First (assess & treat for the following)
Does patient have any respiratory distress that requires immediate attention?

PaCO2 > 50 mmHg
pH < 7.2
PaO2 < 70 mmHg or O2 saturation < 90%

Does patient have evidence of low BP: systolic < 90 mmHg and/or diastolic < 60 mmHg?
Does patient have mental status changes?
Does patient have evidence of renal dysfunction &/or decreased urine output?
Is the CXR showing bilateral, multilobar or progression of pulmonary infiltrates?
Is the patient immunocompromised?
Definitions
Community-acquired pneumonia (CAP)
Severe community-acquired pneumonia (SCAP)
Nosocomial pneumonia (NP) or hospital-acquired pneumonia (HAP)
Ventilator-associated pneumonia (VAP)

Nosocomial pneumonia in a mechanically ventilated patient

Healthcare-associated pneumonia (HCAP)

A NP in patients from nursing homes, dialysis centers, etc. who are exposed to multidrug-resistant (MDR) bacteria

Important to differentiate the different groups of patients who may present with pneumonia in the ICU:

Patient origin: from the community, immunocompromised host either from the community or a nursing home, or currently in the hospital
Patient in the hospital and/or ICU who develops a pneumonia, and/or receiving mechanical ventilation, who develops a nosocomial pneumonia

Demographic characteristics

Most relevant are age, comorbid conditions, medication use, history of immunosuppression, geographic & travel history, exposure to animals.

SCAP

American Thoracic Society (ATS) defines SCAP & need for ICU admission by of at least 2 of the minor criteria parameters (systolic BP 90 mmHg or less, multilobar disease, PaO2/FIO2 < 250 torr) or one of the major criteria (need for mechanical ventilation or septic shock).
Mortality due to SCAP: 35-40%
Mortality rate of NP in the ICU is 35-70%.
Risk factors for NP are grouped into 3 categories:

Underlying acute illness that predisposes to secondary pneumonia

Acute lung injury
Abdominal, thoracic or cardiac surgery
Head injury/coma
Immunosuppressive illness

Coexisting medical illness

Age >60 yo
Obesity
Cardiac diseases
Albumin < 2.2 g/dl
Burns
Multiple organ failure
Chronic pulmonary diseases (chronic obstructive pulmonary disease, asthma, bronchiectasis, etc.)
Renal failure
Malignancies
Diabetes mellitus
Splenic dysfunction

Factors associated with therapies frequently used in ICU

Intubation with mechanical ventilation >2 days: most important, risk factor increases the risk 7- to 21-fold!
Antibiotic therapy
Bacteriologically virulent pathogens (Pseudomonas aeruginosa, Acinetobacter spp.)
Tracheostomy
Nasogastric tube use
Transfusion >4 units PRBC
Use of corticosteroids, immunosuppressants, H2 antagonists
Prolonged sedation and/or paralysis
Head of bed elevation < 30 degrees
Etiology
SCAP

Patients with severe pneumonia in the ICU may have a pneumonia acquired:

In the community (SCAP),
In the hospital (HAP),
While being mechanically ventilated (VAP) or
From nursing homes, dialysis centers, etc. who are exposed to MDR bacteria (HCAP)

Most common cause of CAP is S. pneumoniae. 40% of S. pneumoniae is resistant to penicillin and is called drug-resistant S. pneumoniae.
S. pneumoniae, H. influenzae, Mycoplasma pneumoniae, influenza A virus, coronavirus (SARS), S. aureus, C. pneumoniae, C. psittaci, L. pneumophila, C. burnetii, gram-negative bacilli (Klebsiella spp, E. coli, Pseudomonas aeruginosa, etc). P. aeruginosa infection is a risk factor in patients with underlying lung diseases, as seen in bronchiectasis, cystic fibrosis & chronic corticosteroid use.
Opportunistic pathogens: P. carinii, cytomegalovirus, Cryptococcus neoformans, M. tuberculosis, M. avium intracellulare, A. israelii, N. asteroides, Aspergillus spp.
Rare pathogens: pertussis, typhoid, paratyphoid, brucellosis, leptospirosis, tularemia, anthrax, plague, Q fever
Viruses: Epstein-Barr virus, cytomegalovirus, measles, varicella, herpes, hantavirus

NP (HAP, HCAP, VAP)

In the first 5 days of hospitalization, pneumonia is usually caused by Streptococcus pneumoniae, Haemophilus influenzae, anaerobic bacteria & less frequently Staphylococcus aureus (SA) (including methicillin-resistant SA [MRSA]) & Moraxella catarrhalis.
>5 days after admission, pneumonia is more commonly caused by hospital-acquired pathogens such as aerobic gram-negative bacilli, SA (often MRSA), Legionella pneumophila. Less frequent: influenza A & B, respiratory syncytial virus, Aspergillus spp., Pneumocystis carinii, Mycobacterium tuberculosis.

Gram-negative rods: Pseudomonas aeruginosa, Enterobacter spp., Acinetobacter spp., & enteric gram-negative rods (Klebsiella, E. coli, Proteus, Serratia) are the predominant pathogens & are at high risk to be drug-resistant.

SA (20-30% are MRSA). MRSA is seen in patients with underlying COPD or prior antibiotic use and/or in patients receiving mechanical ventilation.

Polymicrobial infections (60%) are common in patients on mechanical ventilation. MRSA, S. pneumoniae & H. influenzae are found in early-onset (before day 5) nosocomial pneumonia.
-- To view the remaining sections of this topic, please sign in or purchase a subscription --
Last updated: May 5, 2010
Citation
* When formatting your citation, note that all book, journal, and database titles should be italicized* Article titles in AMA citation format should be in sentence-case
TY - ELEC T1 - Severe Pneumonia in the ICU ID - 534213 Y1 - 2010/05/05/ BT - Pocket ICU Management UR - https://anesth.unboundmedicine.com/anesthesia/view/Pocket-ICU-Management/534213/all/Severe_Pneumonia_in_the_ICU PB - PocketMedicine.com, Inc DB - Anesthesia Central DP - Unbound Medicine ER -